The Madison Poems, d.a. Levy. Second Edition.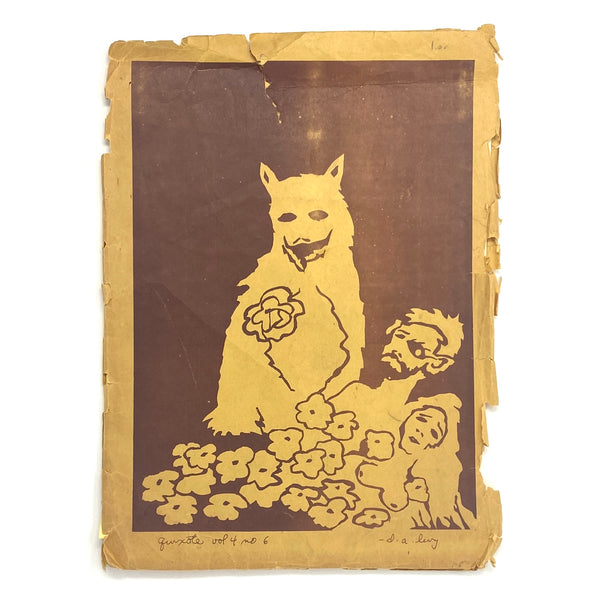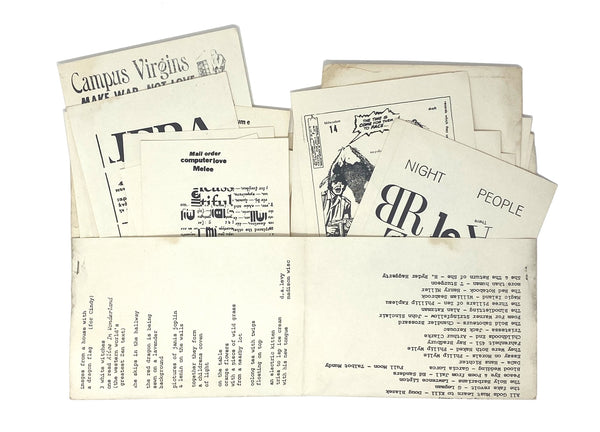 The Madison Poems, d.a. levy
Second edition of this important portfolio of levy's work. Composed during his short time at the University of Wisconsin Madison in 1968 (where he was the "Free University Poet-in-Residence"), the work was ultimately assembled and published by levy's friends and associates following his death in 1969. The first edition was produced in 1969 and this, the second, in 1972. Both editions contain different collages and inserts, and it appears that variations exist even within the editions.

Madison, Wisconsin: Quixote Press, 1972. Second edition. Original silk-screened manila mailing envelope, containing 18 reproductions of levy's collages in various sizes and colors (11 of which are stapled together), a small folio of 24 concrete poem cards, a single-page reproduction of levy's 'The Evolution  of Comparative Literature and a reissue of The Tibetan Stroboscope. Presumably lacking The New Student facsimile and the Concrete Poems insert. The envelope is worn with tearing, creasing and some loss, still held together at one point. The collages are in about very good or better condition, with a few creases and minor wear. The small folio shows a dampstain, but the cards within are in generally very good or better condition. The Tibetan Stroboscope shows some shelfwear with discoloration and scuffing to wraps, creasing to back cover, internally about near fine.