Memoirs of the Life of the Right Honourable Richard Brinsley Sheridan, Thomas Moore. First Edition. Chandos Leigh's Copy.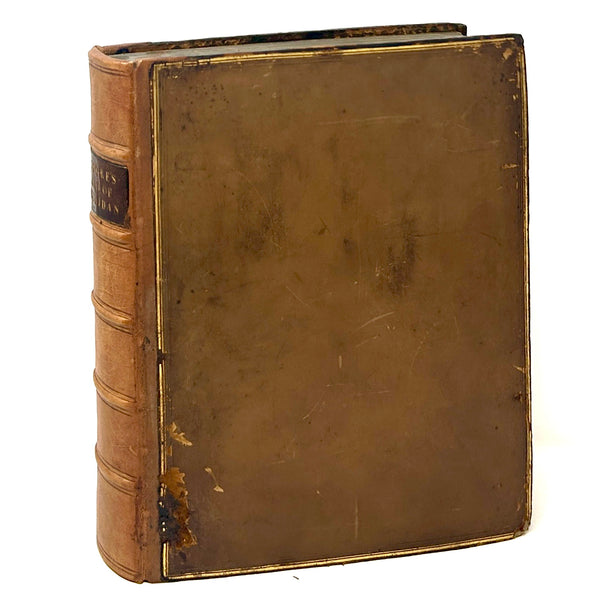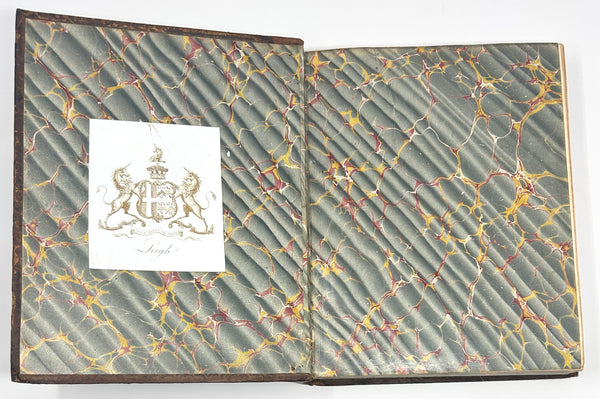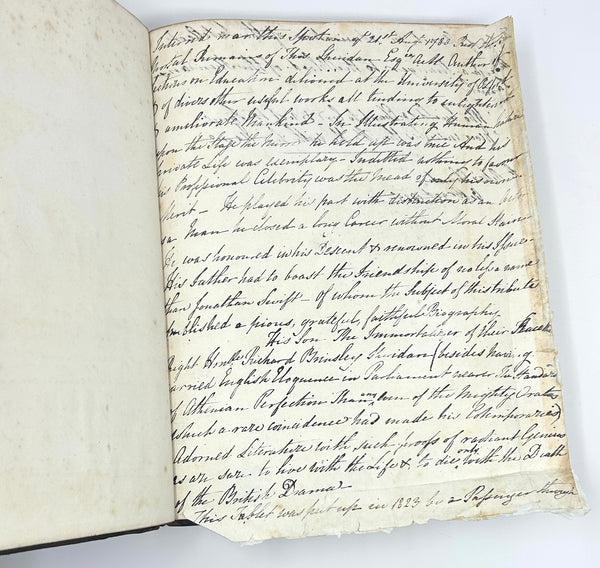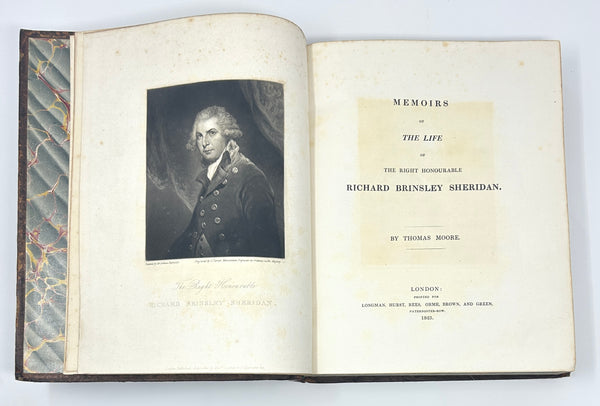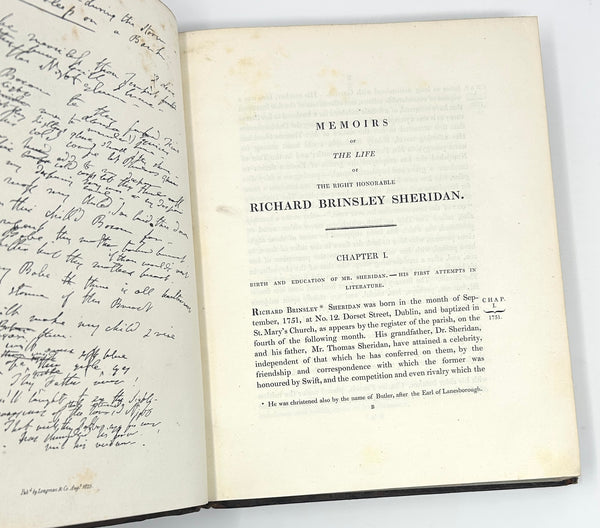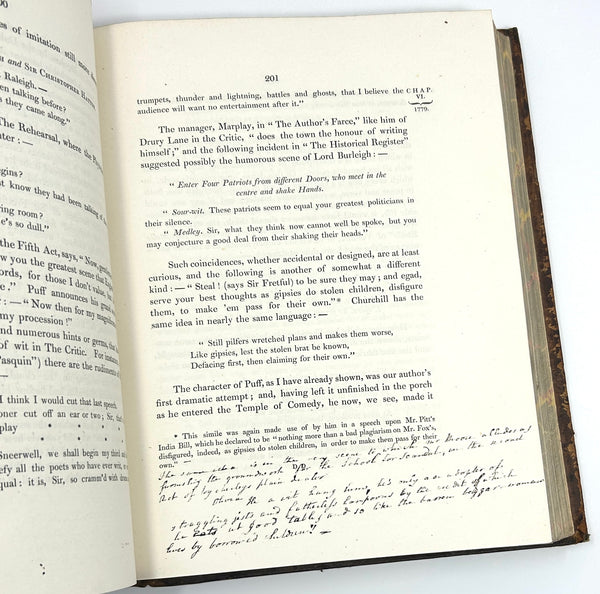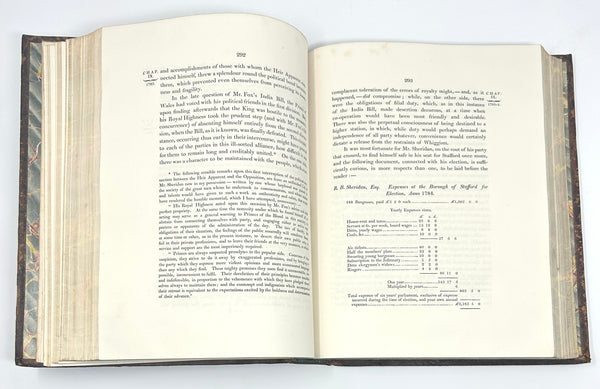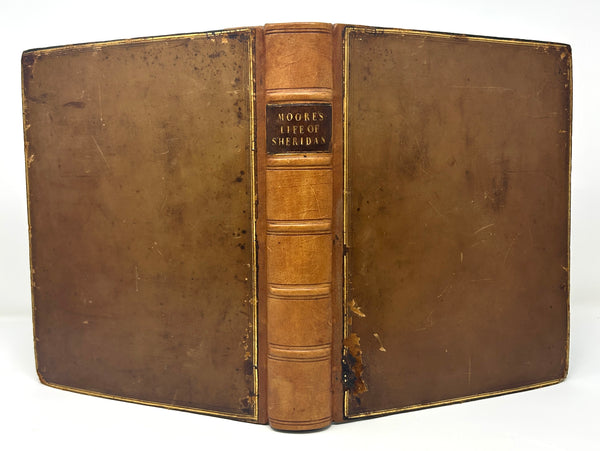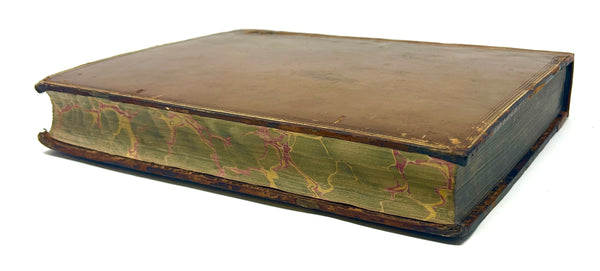 Memoirs of the Life of the Right Honourable Richard Brinsley Sheridan
Thomas Moore

First edition of Thomas Moore's biography of the playwright and politician Richard Brinsley Sheridan (1751–1816). An interesting association copy from the family library of the Lords Leigh of Stoneleigh, and carrying notes in the hand of Chandos Leigh, founder of the line.

Chandos Leigh (1791-1850), poet and author, was educated by Issac Hunt (father of Leigh Hunt, who was named after his father's pupil) and then at Harrow, where he was a contemporary of Byron. On leaving Oxford he entered the world of liberal politics, becoming a frequent guest at Holland House, where he became acquainted with all the most important figures of that world, including Sheridan himself.

The annotations in this copy are of a various character, one (page 711, although unfortunately cropped) relating an anecdote about Sheridan's making some

impromptu

verses for the Prince of Wales. At another point (page 699) Leigh identifies some verses in praise of Sheridan by an 'anonymous writer' as being by Moore himself. A third (p. 201) traces an idea in The School for Scandal back to Wycherley's Plain Dealer, and a fourth (page 305) suggests that some verses at the end of The Rolliad' must be Sheridan's.' There are also a few other marks in pencil, also presumably by Leigh. Additionally, there is a leaf inserted at the beginning of the volume that carries a transcript in ink, dated October 22 1825, of the epitaph on Sheridan's tomb at St. Peter's Church, Thanet.

London: Printed for Longman, Hurst, Rees, Orme, Brown, and Green, Paternoster-Row, 1825. Bound in contemporary polished calf, covers lined in gilt, rebacked with corners repaired, marbled edges, bookplate of the Leigh of Stoneleigh; engraved frontispiece, errata slip inserted after contents, facsimile plate of Sheridan's writing prior to text; pp. xii, 719, [1] imprint. Covers show some wear and rubbing with areas of surface loss, corners worn, endpapers foxed else quite internally clean.